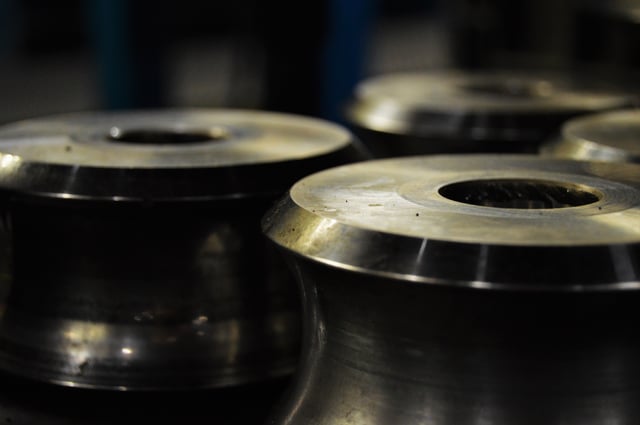 Roll forming passes coiled sheet metal through a horizontal series of rotating dies to produce a desired shape.
Each set of rolling dies makes an incremental change to the sheet metal until the desired profile is achieved. The piece is then cut to your desired length.
Typically, it's specified for parts with long lengths, and is also useful for producing large quantities.
Compared to press brake or other bending operations, roll forming has several benefits.
4 Benefits of Roll Forming
1. Range of Materials
Almost any metal can be roll formed, including:
Aluminum

Brass

Cold rolled steel

Copper

Galvanized steel

Galvalum

Electrogalvanized steel

Prepainted

Stainless steel
2. Precision, Quality and Consistency
Due to the more gradual forming sequence, roll forming provides tight tolerances and an attractive finish.
The rolling dies are gentle on soft sheet metal, making roll forming ideal for metals already finished with paint, plating, or coating.
3. No Length Constraints
Unlike other bending operations, roll forming doesn't have a limit on part length. Because the material is coiled and fed through, any length can be produced.
The process allows you to add tooling to create any shape, no matter how complex.
4. Higher Volumes at Lower Costs
The speed and continuity of roll forming allows it to easily handle high volume orders at lower costs.
Actions such as notching, perforating, and punching can be incorporated into the line, eliminating the need for secondary operations.
Roll Forming Applications
Roll forming works best for projects that require medium to high volumes, tight tolerances, and an attractive finish, including:
Vinyl reinforcements

Metal furniture components

Door and window hardware

Cable guard

Metal fencing

Drawer slides
Do you want to learn more about roll forming, or do you have questions about your next project? Schedule a free consultation!