Are you looking to complete a laser cutting project? At Mchone Industries, we offer sheet metal laser cutting services that are quick and cost-effective.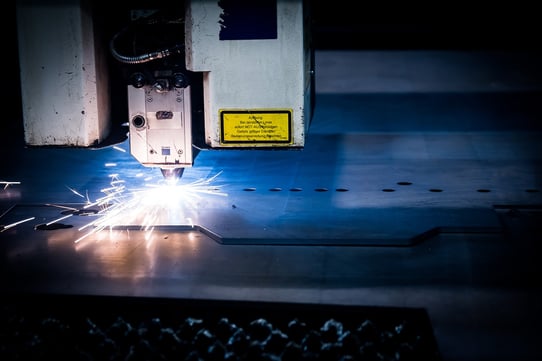 We use two Trumpf 3530 lasers to complete your sheet metal laser cutting projects efficiently. These model lasers were designed to offer the best speed, flexibility and cutting quality for your custom manufacturing needs.
But, how does it work? It has a X-direction axis that takes weight off key parts of the machinery. This results in a higher sheet metal cutting speed.
To make sure the laser cutting machine is sustainable and optimal at all times, the 3530 laser comes with a Trumpf Loadmaster unit.


Our Laser Cutter Dimensions
Nothing's more annoying than a vendor who's more than happy to take your cash, then says, "Wait … we can't handle this," after you submit your design.
To ensure we're completing your order as accurately as possible (and with design-for-manufacturing principles in mind), we recommend certain sizes and laser cutter dimensions for your project. This will allow us to create an efficient and high quality laser-cut component.
We can complete up to 60" x 120" sheets, with a maximum of:
0.750" thick mild steel
0.500" thick aluminum
0.625" thick stainless steel

Keep these stats in mind as well:
We can handle a workpiece weight of up to 1,565 lbs (710 kg)
We offer positioning speeds of 120-170 m/min
Accuracy can be as precise as 0.01 mm



What These Numbers Mean for Your Metal Components
We recommend smaller, more complex projects for our signature laser cutting services and state-of-the-art technologies. Tight tolerances are made easy by the laser's precision and can ensure a quick and precise cut.
Our laser cutter dimensions and offerings were optimized with your best finished product in mind. With a smaller-scale sheet metal project, we strive to make clean cuts and designs, every time.


All-In-One Manufacturing
It's likely that after finishing your laser cutting project, you may need your laser-cut material to be a part of a bigger, more complex finished product.
Working with an all-in-one manufacturer like Mchone can allow you to receive other services, such as:
Having your project all under one roof will allow you to work with a vendor to improve the concept and save time.
Sheet metal laser cutting may be the first project you need finished, but when you work with us from phase one we can ensure you're meeting quality and lead time goals for each job -- and future ones to come.