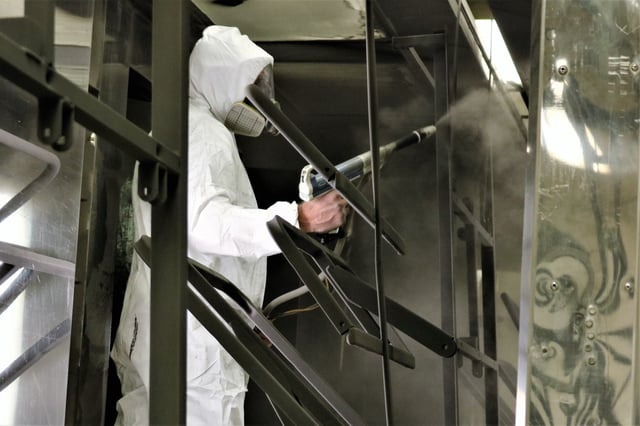 You want the best possible result when you send your plans to a manufacturer. So why wouldn't you ask for the best possible finish -- powder coating?
When you specify powder coating services, your parts are dry-sprayed with electrostatically charged pigment and resin particles. The charged particles adhere to your components until the curing oven heats and fuses the particles into a smooth finish.
The popularity of this method is growing among engineers. Today it represents well over 10% of all industrial finishing applications, a number that continues to grow.
We're proud to say we own a state-of-the-art powder coating line. Read on to see how your bottom line and peace of mind can benefit, or check out the video below.
Powder Coating Services: 3 Benefits
1. Cost
Surprise! It's way cheaper than painting. We will collect, sift and reuse any excess powder in our spray booths rather than charge you for more. Meanwhile, excess paint is nearly impossible to recover, and by then it's usually too dry to recycle anyway.
So, by our calculations, powder coating is a better investment in the end. Our goal is to get you through the manufacturing process with no wasted spending.
2. Durability
Powder-coated surfaces are less prone to:
Scratching

Chipping

Fading


The uniquely uniform coating we can give your part with powder guns prevents "weak spots" in your finishing.
3. Good Looks
Our color selection is just as robust as that of paint. And the colors of powder coating stay vibrant for longer.
You can even try different textures with powder coating. Smooth finishes are, of course, popular, but you're welcome to request a wrinkled, matte, or rough-texture finish for hiding surface flaws. The versatility of powder coating is unmatched!
Powder Coating Services at McHone
McHone's cutting-edge, 750-ft. powder coating line includes a five-stage iron phosphate wash system. Your parts will get nice and clean for a smoother application.
Along those lines, our spraying technology is articulating and fully computer-controlled for consistent coverage. To cap off the cost-efficiency, we use an environmental room with two powder booths for quick color changes. Depending on your part, we can run at up to 25 ft. per minute.
As for the size of your components, we can get very creative with how we get them through the line. Just get in touch with us, and we'll assess how we can best get your parts coated.
To sum it up: Many parts and industries can benefit from the versatility of this wondrous coating. A small sample of items we've applied it to:
Light fixtures

Bed frames

Lawn & garden items

Much more


Stop Throwing Away Money With Paint
Powder coating services are among the ways we help streamline costs without sacrificing your part's quality. (We can also them make part of a one-stop shop experience if you need other metal manufacturing services.)
If you want to take your product's look, cost-effectiveness, and durability to another level, it's time to move on from paint. Or, if you're already using a powder coating service that's lacking in efficiency, we can talk about how to maximize your dollar, too. Stop throwing away those dollars and start putting them into growing your business -- we can help!