Metal Manufacturing Services & Capabilities Handbook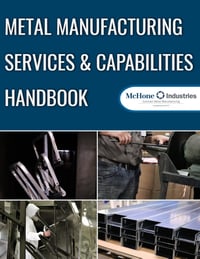 If you want your business and product line to grow, you'll need a versatile, hands-on vendor to help lead the way. This free e-brochure tells you a little more about what McHone Industries' full-service metal manufacturing services can do for you.
Why 1-Stop Metal Manufacturing Services?
We offer so many metal fabrication and production services between our walls that it's almost impossible not to save lead time, transportation costs, and communication headaches with us. If you're looking to consolidate services, download our Metal Manufacturing Services & Capabilities Handbook. You'll learn:
Which manufacturing services we offer (Hint: a lot)
What processes & machinery we use to achieve your goals
How value engineering & inventory management can streamline your supply chain
Please fill out the brief form on this page. We'll send you an e-brochure showing all we can do for your component's quality, line time, and cost-effectiveness. All from a single source!