Tube Sizing Chart - Quick Reference Guide
Need help determining what standard tube sizes and shapes are available?
This Tube Sizing Quick Reference Guide will tell you what you need to know about steel tubing dimensions.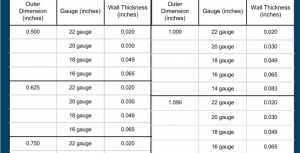 Within this tube sizing chart, you'll find:
Most common shapes and sizes
Aluminum, stainless steel, and mild carbon steel
How to calculate approximate shipping weight
Common definitions and formulas


Understanding steel tube sizing doesn't have to be a difficult process. This simple guide explains common shapes, sizes, terms, and formulas to help you in your search for the perfect tubing.
If you need more information about steel tube sizing and shapes, we are happy to answer any questions.